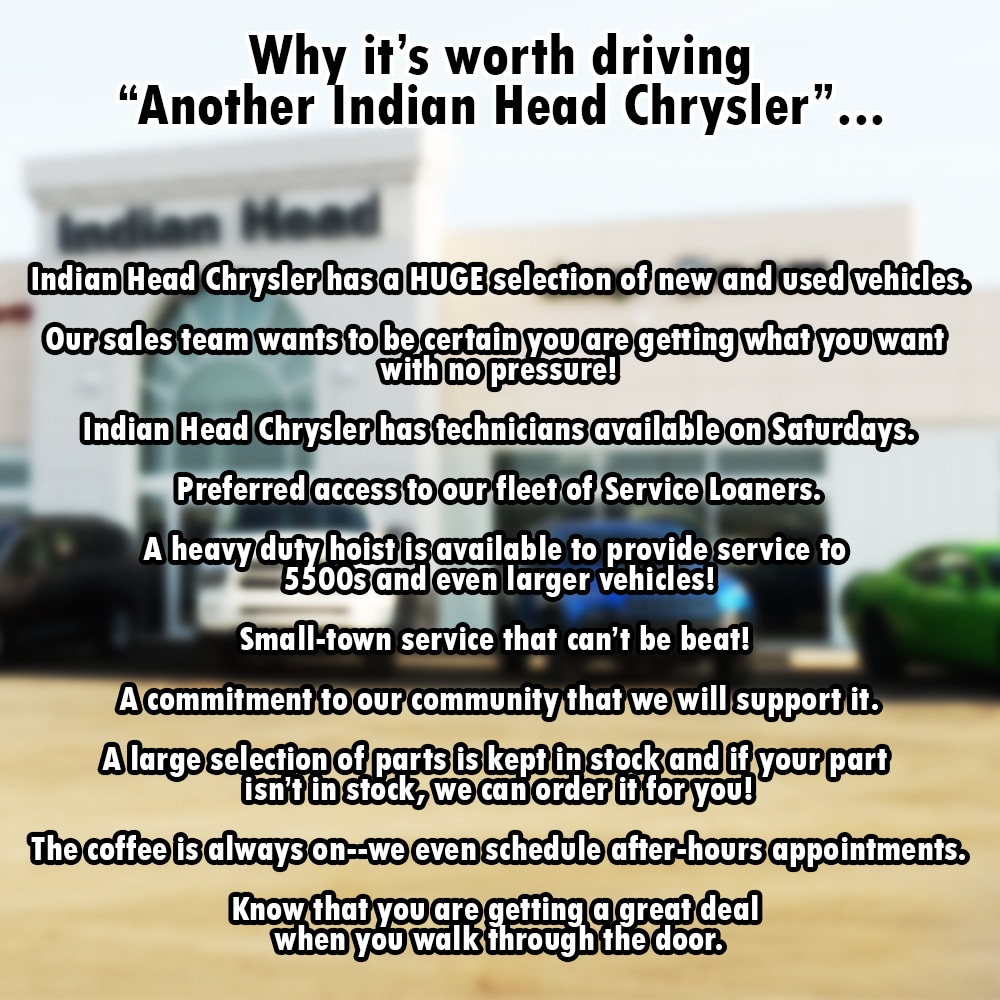 New & Used Car Dealership in Indian Head, SK
Chrysler vehicles have a rich heritage and an insatiable thirst for the open road. For Chrysler drivers, the clear, straight highways are gateways to adventure and fun under the boundless blue prairie skies. For over 30 years, Indian Head Chrysler has been proud to bring the rich heritage of the Chrysler name to the hardworking drivers of Indian Head and the surrounding communities. Welcome to Indian Head Chrysler, your premier dealership for all things Chrysler, Dodge, RAM, and Jeep.
When you take on the tough jobs, you need a vehicle that's got a full set of tools in its toolbox. The rugged and capable Dodge Ram 1500 is the stuff of legends, available in Diesel, with its coveted status as Canada's longest-lasting light-duty pickup. Indian Head Chrysler offers a stunning array of new and pre-owned Ram 1500s, so our dedicated and enthusiastic sales staff is sure to find you a truck that's got all of the features you're looking for. Of course, our inventory doesn't end at Ram vehicles. We pride ourselves on carrying an extensive lineup of new and top-quality used vehicles of all kinds. Working on a tight schedule? No problem! Make an after-hours appointment, and shop at our lot on your own time. Want to check out what we have before visiting in person? Feel free to browse our inventory online and schedule a test drive from the comfort of your home today!
Hardworking people often have what seems like a never-ending to-do list. With a full calendar being the new normal, it's easy to let vehicle service and maintenance wait for another day. At Indian Head Chrysler, we respect your busy schedule, and make it easy for you to get your car, truck, or SUV the care it needs in our Service Department. Our extended service hours and online booking form make it easy for you to pick an appointment time that works best for you. Don't have time to bring your vehicle to us? If you're in Indian Head, we'll pick it up! If your vehicle will be under the expert care of our skilled technicians a little while longer, we offer a dedicated fleet of loaner vehicles. We'll make sure you never have to put your life on hold for maintenance or repair at Indian Head Chrysler. 
As nice as all of our perks are, it's the people at Indian Head Chrysler that make the difference. Our staff at our dealership for new and pre-owned Chrysler, Dodge, Jeep, and RAM vehicles is not only professional and knowledgeable, we love what we do! This passion for our product shines through the moment you step through our doors. In a modern world where credibility is measured in star ratings, we know that the true measure of a dealership is the relationships we build with our customers. We also know that the best relationships are built on a foundation of trust, which is why we're committed to transparency and honesty in all of our departments. At Indian Head Chrysler, we're dedicated to taking the stress and hassle out of your shopping experience, and making your visits into pleasant experiences you'd be happy to repeat. Complete customer satisfaction has always been our number one priority! Come to Indian Head Chrysler! We offer a better way to experience the open road. You can find us at 501 Johnston Avenue in Indian Head, SK, or give us a call at 888-356-3941. We look forward to hearing from you!